I have had a few requests for some ideas for longer shorts. I love the look of a longer short for summer too. You just have to be careful how you wear them so they don't look too "mom"(not to insult myself and others)! One of my tricks to lengthen shorts is to take out the seam on a rolled short (more on this later) or take them for a $10 tailor and have the seam taken down an inch or two. For me a 7 inch inseam is perfect--good coverage but also cute for summer and the heat (we are going to D.C. for a few weeks this and will be sweatin' it out).
Banana Republic pleated
shorts
This is the look--ps--these Stella Shorts are amazing, but I think I'll go for the Banana ones above$$$.
Banana republic shorts (same as above, different color)
LOVE these ones. Have these and wear all the time!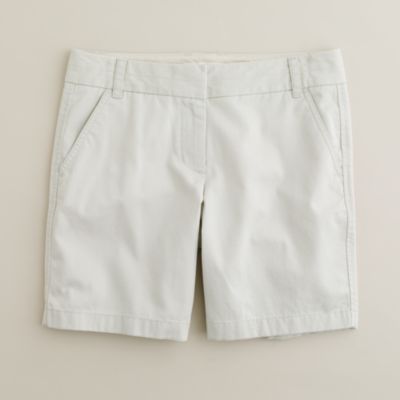 J Crew 7 inch inseam shorts (on sale in some colors $38!)
Here is how to wear these white shorts:
Current Elliot army bermuda
shorts
(if you unroll them they look cool and are
long)
These are my favorite--I have them in many colors--I am wearing them with everything!
Old Navy Cuffed bermuda

shorts
(for $18 you can't lose)
Love these too--much better quality than the Old Navy and I like the no-roll
Garnet Hill lightweight boyfriend

shorts